Electric blankets can keep you warm all through the night for a fraction of the cost of your central heating. Check out the Giselle Bedding Buying Guide for top tips on choosing the right electric blanket for you and your family.
---
Need new pillows but not sure what to do with your old ones? Giselle Bedding has 9 tips to repurpose your pillows and keep them out of the landfill.
---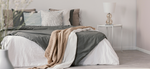 Finding the right sheets are essential for a good night's sleep. Read this comprehensive guide by the sleep experts at Giselle Bedding and find the right bed sheets for you and your family today.