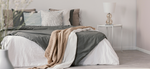 You've got your bed and you've got your mattress, now it's time to find the perfect bed sheets! Finding the right sheets are essential for a good night's sleep: they can't be too hot or cold, too airy or too stuffy, too fluffy or too thin…they need to be just right. It can be hard to sort through the endless catalogues of bed sheets between trying to find the right fabric, thread count and price. Don't worry though - the sleep experts here at Giselle have put together a comprehensive buying guide so you can find the right bedsheets for you and your family. By the time you're finished with us, sleep will be second nature. 
How big should my sheets be?
The standard mattress sizes for Australian sleepers are as follows:
Single: 92cm x 187cm
King Single: 106cm x 203cm
Double: 137cm x 187cm
Queen: 153cm x 203cm
King: 183cm x 203cm
You'll want to remember these numbers, because these will tell you what size sheets you're going to need.
Next, you should measure the height of your mattress. Fitted sheets have pockets that slip over the corners of your mattress, and their depths may vary. Your fitted sheets should allow 2-3 additional inches in the pocket to allow for tucking – this should keep your sheets taut and stuck on your mattress.
Pro tip: If you struggle to keep your bedsheets on in the middle of the night, or if you sleep with a blanket-hogging partner or pets, consider buying your quilt cover/throw blankets a size larger than your fitted and flat sheets. 
What sheets do I need?
Did you know there are over 14 types of bed sheets? Don't worry though - unless you're very invested in decorating your bedroom, you'll mainly focus on four sheets:
Fitted sheets
Fitted sheets are designed to protect your mattress and give you a smooth, comfortable surface to sleep on. They usually have an elastic edge to keep them firmly on your mattress and they are the first sheet to go on the bed, unless you're also using a mattress protector. Fitted sheets help to extend the life of your mattress by adding a layer between you and its surface.
Flat sheets
Flat sheets lie flat on top of your bed and can be tucked under the bottom corners of your mattress for a tight, neat fit. They help to protect your quilt and quilt cover from dirt and oils from your skin, which means you also don't have to wash those as often. Flat sheets are also perfect for sleeping under in the hotter summer months. 
Though many older generations consider flat sheets to be bedding essential, many younger buyers consider them pointless at best and extra work at most. 
Quilt covers
Quilt covers go over your quilt to protect it from body oils, dirt and grime and extend the life of your bedding. You can often buy these separately from the rest of your sheets, and/or with matching pillowcases.
Pillowcases
Pillowcases also function as a protective layer between your pillow and your face. Pillowcases extend the life of your pillow and mean you don't have to wash them as often, doubly so if you also use a pillow protector.
What thread count should I buy?
Let me tell you a secret: thread count doesn't matter as much as the bedding industry would like you to think.
When it comes to thread count, it's quality over quantity. A high thread count won't make your sheets feel good if they're made from terrible fabric. According to the Sleep Foundation, the ideal thread count for your bed sheets are:
Cotton: 200-400TC
Linen: 80-140TC
Bamboo: 300-500TC
Silk is measured in momme (pounds of silk per 45 inches by 100 yards) and polyester can usually be marked with a high thread count because the threads are thinner, rather than because they are high quality. Thread counts will also be affected by the type of weave (percale or sateen) and can be artificially inflated by using double or triple-ply threads. While sheets with a higher thread count may seem luxurious, they typically perform similarly to higher-quality fabrics with lower counts, so be wary of sheets with thread counts of 900 or higher.
Weave types
Your two main choices for weaves are percale or sateen. Percale is a basic grid style that is lightweight and closely woven for a smooth finish. Sateen uses an alternating weave pattern that gives the sheets a weightier, softer feel. What you choose should come down to personal preference. Warm sleepers will likely prefer a breezy percale weave, while cold sleepers will prefer the warmth and weight of sateen.
What's the best material for my bed sheets?
Bed sheets come in a wide variety of materials to suit any sleeper, including:
Polyester
The most affordable material, but also considered the least comfortable because it retains more heat. To alleviate this, you can buy a polyester blend, usually a mix of polyester and cotton.
Linen
Derived from flax, linen feels crisp initially, but over time, becomes softer to the touch. Linen fabric is breathable and hypoallergenic, but wrinkles easily.
Cotton
The most popular of fabrics, cotton is breathable, durable, affordable, hypoallergenic and easy to clean. It is also moisture-wicking. Cotton comes in a variety of different forms such as washed cotton, Egyptian cotton, and flannel. Different varieties of cotton will attract different price points.
Bamboo
Widely regarded as eco-friendly and sustainable, bamboo is hypoallergenic, temperature-regulating and bacteria-resistant. However, bamboo processing can be processed chemically,  so choose your sheets carefully.
Silk 
The most luxurious bedding and the most expensive, silk is cool, breathable, and hypoallergenic. Silk sheets give off a 5-star hotel vibe, but they may not be worth the price for everyday use.
While your budget might be the deciding factor, you should choose sheets based on your ideal night's sleep. Do you suffer from allergies? Do you hate slippery textures? Do you sweat a lot? Whatever sleeping issues you might have, there is a material that will solve them.
Should I buy individual sheets or a complete set?
You can buy sheets by themselves or in a pack, usually separated into sheet sets and quilt sets. If you want to ensure a matching set, a pack is probably the right choice and may turn out cheaper. If you want to ensure your exact requirements are met, buying your sheets individually is the best choice. No matter how you choose to buy your sheets, consider them an investment in your future sleep.
Quality sleep requires a quality bed. Giselle Bedding has a wide variety of mattresses, mattress toppers, quilts and other bedding accessories such as weighted blankets, pillows and more. We have a variety of filling options and fibres to suit your individual needs, whether you're considering comfort or sustainability. Browse our collection today and experience luxurious, high-quality sleep for years to come.