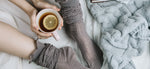 Now that winter is upon us, many of us might be looking for ways to stay warm and cosy at night. Wearing several layers of garments for warmth can be really comfortable. Fortunately, we've other alternatives.
You will be surprised to know that the electric blankets take the first seat. They will keep you warm all through the night for a fraction of the cost of your central heating.
Let's dig a little deeper to learn the multiple benefits it offers.
What makes electric blankets a must-purchase this winter
The following are the benefits of electric blankets.
Helps sleep better
Your circadian rhythm is your sleep-wake pattern, influenced by diet and activity, light or dark, and temperature. The sudden temperature drop at night can pull you out of deep sleep. Electric blankets keep you cosy and provide consistent heating, which naturally helps you sleep better and wake up feeling refreshed.
Relieves pain
Heat is known to help relieve body aches. The electric blankets work just like a heat compress. The heat generated from electric blankets activates receptors in our body and blocks the pain signals sent to the brain. With the pain signals being blocked, your pain quickly vanishes. It also prevents your body from feeling stiff, especially on winter mornings.
Provides relaxation
Not just for relieving pain, the heat released from the electric blankets alleviates muscle spasms and tightness, provides sinus relief, expands the ability of muscles and other tissues in our body to stretch, and improves blood circulation. The entire body gets the most needed relaxation, which ultimately brightens up your mood keeping you happy and cheerful.
Saves money on heating
Electric blankets won't cost you a fortune. They are energy efficient and consume less energy compared to centralised heating. They will use power enough to keep you warm rather than your entire space. It's a long-term investment, and you will save on the bills too.
Which one to pick – Polyester or Fleece?
Electric blankets come in various materials, such as polyester, faux fur, anti-allergy, diamond-quilted, and fleece. However, the most used fabrics are polyester and fleece.
Let's learn about the unique benefits each of these materials offer.
Polyester
Electric blankets made with polyester fabric are a popular choice of many. It has strong fibres that make them resistant to wear and tear. Being such a versatile material, it is both soft and fire-resistant. Other benefits include:
Long-lasting and lightweight
Easy to clean and maintain
Cost-effective compared to other materials
Soft and cosy
Easy to store
Fleece
Nothing beats the simple pleasure of snuggling into fleece electric blankets. They are known for the comfort they provide. As fleece electric blankets are made from natural materials, they are soft and comfortable and ensure a good night's sleep. They are warm, which makes them perfect for winter. Giselle Bedding's fleece electric blankets come in various colours too. Check them out here. Other benefits include:
Easy care and maintenance
Super soft and cosy
Breathable and lightweight
No shedding or fading
Anti-static
Easy storage
Value for money
Enjoy a warm and toasty bed every day without spending a fortune!
Giselle Bedding brings electric blankets in polyester and fleece material. Whether polyester or fleece, each has its own advantages. Which one to go for is really your call. However, you wouldn't go wrong with any of them.
Get winter-ready with Giselle Bedding! Check out our collection of Electric Blankets now!
-->