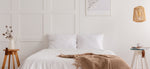 Are you thinking of replacing your mattress? Have you considered an upgrade, perhaps in size? You've come to the right place, as Giselle Bedding has a huge range of mattresses all the way up to King Size!
You might be thinking, why would I need a king size? But the benefits might be better than you think! If you're replacing your bed, consider taking the leap to king beds and better sleep quality.
How big is a king?
In Australia, a king single is usually 107cm x 203cm and a regular king is 183cm x 203cm. If you live with a partner, spouse or family, a king bed is not just great for you – a quality king bed is an investment in your future, and your health. So what are the benefits of going bigger?
More space for activities
The most obvious difference is the amount of space you have, not just to sleep but to do all sorts of things – watch TV in bed, have family cuddle time with the kids and pets, spread out your blankets for a bedroom picnic, whatever creative activities you like to do in the bedroom. If you have underbed storage, you have more storage space too!
Separate zones for couples
With the additional space comes additional wiggle room for couples who appreciate their own space. No more accidentally crashing into your spouse in the middle of the night; this is the perfect solution for couples who toss and turn together.
Improved quality of sleep
It turns out space helps solve a lot of sleeping issues. You breathe better, you have more room to get comfortable, and you're not longer fighting to stay off the edge. But having more room is not the only benefit for restless sleepers. Many king mattresses on the market are designed to relive pressure points across your body, making it easier to fully relax no matter what position you're in.
Wide variety of bed types
Thanks to its popularity, you can find a king size bed in almost any style to suit not only your sleeping needs, but your décor too. Find a bed frame to suit every need – and take your mattress with you if you change your style.
Giselle bedding has everything you need to find your perfect king size mattress. With our wide variety of materials, toppers, blankets and more, you'll have a bed fit for royalty in no time, especially with our partnered couriers delivering Australia wide. Shop today!