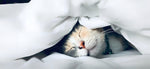 Summer is truly gone, and winter is upon us. We've already started feeling the winter chill.
The colder temperatures disrupt the sleep cycle, and you might experience tossing and turning at night as we approach the middle of Australian winter. This calls for cosy bedding to keep you warm and toasty on chilly nights. A comfy, warm snuggly quilt will help you get a better night's sleep without feeling the chill.
Whether your all-season quilt is not keeping you warm enough, or you're looking for a new quilt to keep you cosy during the colder months, we'll help you find the right quilt for your needs.

Firstly, material matters when it comes to quilts. There are two general categories: natural fibres and artificial fibres. Natural fibres include wool, cotton, feather and down, and mulberry silk, whereas polyester and faux minx are popular choices for artificial fibre quilts.

So, snuggle up and get stuck into our guide about how to choose the right quilt for winter. 
Faux mink quilts
Made from polyester material, faux mink quilts are a great choice for winter,  trapping body heat to keep you warm and toasty. Besides the warmth they offer, faux mink quilts can add a touch of elegance to your room. They often come in rich colours offering a luxurious silvery sheen and can be quite decorative.
Giselle Bedding's faux mink quilts have 300gsm polyester filling and 200gsm polyester cover. Made with baffle box construction to ensure even warmth distribution, they're available in charcoal, teal, and burgundy shades. 
Benefits of a faux mink quilt
Durable
Lightweight and warm
Easy to wash and maintain
Great for cuddles
Wrinkle resistant
Elegant and decorative
Plush look and feel
Cotton quilts 
Being a natural material, quilts made from cotton are soft, comfortable, and breathable. Cotton is thinner, lighter and breathes more than most other materials. If you enjoy a light and warm quilt, you might consider purchasing a cotton quilt. 
Benefits of a cotton quilt
Hypoallergenic
Breathable
Machine washable
Natural fibre
Lightweight
Durable
Microfibre quilts
Looking for a quilt that's hypoallergenic? For those battling allergies, a microfibre quilt is an ideal solution. It repels irritants like bed bugs and dust mites and prevents them from infiltrating your bedding. This helps you breathe easy and sleep better. Microfibre quilts are made from polyester and suitable for year-round use. They don't hold onto sweat or moisture, and offer the same amount of softness and durability.
Benefits of a microfibre quilt
Hypoallergenic
Machine washable and easy to care
Affordable
Soft and smooth
Enhanced durability
Breathable with reduced sweating
Wool quilts
Tried and tested, our ancestors have been using wool for centuries to keep themselves warm. As a natural fibre, a woollen quilt will regulate heat and keep hot sleepers cool and cold sleepers warm, preventing frequent wakeups. Because wool repels moisture, it prevents the growth of bacteria and dust mites. Furthermore, wool quilts are also renewable and biodegradable. This makes the woollen quilt a safe choice for both you and the environment. 
Benefits of a wool quilt
Natural insulator
Hypoallergenic
Sustainable fibre
Lightweight
Breathable
Super comfortable
Flame resistant
Feather and duck down quilts
Looking for a fluffy, soft, and light quilt? Then, a duck feather or goose feather could be an ideal option. Quilts made from this material will keep you warm without adding extra weight. They are so soft and plush that you'll drift away into a peaceful slumber. 
Giselle Bedding has several options in duck down and goose down quilts. They feature a baffle construction that prevents the filling from shifting and keeps the warmth locked in.
Benefits of a feather or down quilt
Natural fibre
Lightweight and warm
Perfect for snuggling
Soft and breathable
Regulates body temperature
In addition to quilt material, the weight of the quilt is also an important consideration. Check for Grams per Square Metre, or GSM, which refers to the weight of the quilt filling. The more filling within the square metre, the warmer the quilt.
Wondering which quilt is suitable for winter – faux mink, wool, feather or down, microfibre, or cotton? Well, that all depends on what you're looking for. 
Whether you're a cold sleeper or hot sleeper, we've got something for you. Giselle Bedding offers a plethora of options in quilts, so you're sure to find the quilt that suits your needs.
Check out our collection of soft and comfy quilts today.