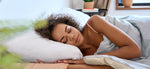 What you sleep on can greatly impact your health and wellbeing. Out of all the things that make up a bed, it's the right mattress that contributes the most to a good night's sleep. The more comfortable and supportive it is, the better postural alignment and quality of sleep. Investing in a good mattress could help you sleep better and wake up feeling energised and refreshed.
If you're hunting for a new mattress, the question is where to start. With so many types of mattresses on the market, finding a mattress that ticks all the right boxes can feel overwhelming. But, fear not! We've made it easier for you at Giselle Bedding.  
In Giselle Bedding's handy mattress buying guide, you'll understand what to consider when shopping for a mattress. Make sure you read to the end to find your perfect mattress match.
Mattress size matters
Investing in an ideal size mattress is crucial for getting good quality sleep. Having adequate space will make you feel comfortable and help you settle into a deep, peaceful sleep. Sometimes, your bed size needs change over time. So it's important you don't rush into picking your usual size mattress.
The following are the Giselle Bedding experts' recommendations for buying the right size mattress for your bedroom.
If you've got a sleep partner, ensure there's enough space on the bed to accommodate both of you.
Buy the largest size bed and mattress your bedroom can accommodate. This will offer additional space to move around while you are fast asleep.
Consider the size and height of your sleeping partner and yourself. The length of the mattress should exceed a further 10 to 15cm than the tallest person sleeping on it. 
If you have kids who like to hop in bed with you, get a big bed to accommodate them too! You'll need the extra room for early morning cuddles.
Don't forget to consider your sleeping position. Different mattress fillings provide different styles of support, so do your research before buying and make sure you have the right support.
Mattress types
There are several different mattress types available on the market. To find the one that offers what you're looking for, you should understand what's making them different from each other. Let's explore some of the most common mattress types so that you can make an informed purchase decision. 
Memory foam mattress
Do you enjoy the feeling of sinking into your bed and being cradled to sleep? A memory foam mattress may be just what you're looking for. It provides good support and excellent pressure relief by contouring your body and taking weight off pressure points. Memory foam mattresses are ideal for side sleepers or those who have arthritis or joint pain. It effectively cushions the joints, promotes spine alignment, and relieves pressure on the heavier parts of your body. A memory foam mattress also helps to limit motion isolation, reducing partner disturbance when sleeping. Depending on the design and construction, memory foam mattresses can be inexpensive to high-end. Choose what best suits your needs.  
Pros of a memory foam mattress
The advantages of a memory foam mattress include: 
Soft feel
Cuts down motion transfer
Provides pressure relief
Doesn't creak 
Contours to your body
Relieves pain
Hypoallergenic
Durable
Cons of a memory foam mattress
The disadvantages of a memory foam mattress include: 
Traps heat
Can sag overtime
Heavy and dense
Absorbs sweat and other body fluids
May make you feel encased
Latex mattress
Latex is a natural material that comes from nature. It's the milky white sap collected from the bark of a mature rubber tree. Latex material comes in different types, but the natural latex overpowers other types of latex mattresses. The composition of natural latex consists of 40 per cent rubber material and 55 per cent water. The mattresses, toppers, and pillows made from natural latex material are bouncy, comfortable, supportive, and environmentally friendly. They will also last longer and have enhanced breathability. Latex mattresses are ideal for a bad back. The high percentages of natural latex make these mattresses firm yet springy, giving your back much-needed support.
Read our blog 100% Natural Latex: Eco-friendly Choice for Better Sleep if you're considering purchasing a latex mattress. 
Pros of a natural latex mattress
The advantages of a natural latex mattress include:
Super comfortable
Relieves back pain
Eco-friendly
Resistant to mould and dust mites
Durable
Sleep cooler
Good motion isolation
Cons of a latex mattress
The disadvantages of a latex mattress include: 
Expensive
Heavy and solid
Absorbs sweat and other body fluids  
Pocket spring mattress
Pocket springs are made by tempering hot metal into coil springs. They are individually wrapped in a quality fabric and stitched in the middle layer of the mattress that's below the comfort layer of foam but above the foundational layer. The pocket spring mattresses are an upgraded version of the traditional innerspring mattress. However, unlike their old counterparts, pocket spring mattresses offer contoured support and pressure point relief as the springs that make up this mattress work independently. The spring count in a mattress can vary. The higher number of premium quality coil springs equals better support and motion control. The pocket spring mattress is ideal for stomach sleepers. It keeps your spine aligned, helps distribute body weight evenly, and soothes pressure points, keeping you comfortable while sleeping.  
Pros of a pocket spring mattress
The advantages of a pocket spring mattress include: 
Durable and enhanced lifespan
Offers contoured support
Promotes proper airflow
Causes less motion transfer
Produces less noise
Cons of a pocket spring mattress
The disadvantages of a pocket spring mattress include: 
More firm and rigid than other mattresses
Expensive
Bonnell spring mattress
The Bonnell spring mattress is the most basic and traditional spring-based mattress. But don't let that fool you into thinking it's outdated. Unlike a pocket spring mattress, a Bonnell spring mattress uses hourglass-shaped springs that are broader at the top and bottom than in the middle. They are also known as open coil spring mattresses. The coils in a Bonnell spring mattress are interconnected with a mesh of metal, which prevents them from moving independently. Since the springs are made from solid steel, they are quite durable and will last for many years. They also provide firm support that conforms to your body as you sleep on it and offer the most comfortable and supportive sleeping surface that's perfect for those who require ample space for easy turns and rolls. If you're a back sleeper, the Bonnell spring mattress may help you get a good night's sleep. 
Pros of a Bonnell spring mattress
The advantages of a Bonnell spring mattress include: 
Better support
Extremely durable
Relieves back and neck pain
Ensures air circulation
Provides maximum comfort
Springy and bouncy
Traditional feel
Medium-firm support
Contours to your body
Cons of a Bonnell spring mattress
The disadvantages of a Bonnell spring mattress include: 
Motion transfer issues
Pressure point discomfort
Less cushion  
Hybrid mattress
A relatively new trend in mattress innovation, hybrid mattresses are a combination of layers of foam and spring coils. These mattresses usually constitute four layers. 
Support layer: The support layer is made from individually wrapped pocket coils. These coils can move independently, which reduces motion isolation. This layer is usually seven to eight inches thick, which provides good structural support, firmness, and padding to the mattress. 
Transition layer: The transition layer acts as a cushion between the support and comfort layer. Usually, this layer uses the same foam material as the comfort layer but with a higher density.  
Comfort layer: The comfort layer is the closest to the sleeper. A good hybrid mattress will have a comfort layer at least two inches thick for ultimate support and comfort. This layer is usually made by combining memory foam, latex, or polyfoam and gel beads for cushioned support and heat regulation. Depending on the thickness and composition of this layer, the feeling of the mattress can vary.  
Pillow top or Euro top: Many hybrid mattresses may include a fluffier topmost layer for enhanced comfort, soft cushioning, and contouring. As you sleep on your mattress, it may feel soft yet supportive. 
A high-quality mattress construction ensures your hybrid mattress will last longer. Whether you are a front, back or side sleeper, a hybrid mattress will provide exceptional comfort, especially for hot and heavier-weight sleepers. 
Pros of a hybrid mattress
The advantages of a hybrid mattress include:
Suits most sleepers
Caters to multiple body types
Durable and long-lasting
Quite supportive and comfortable
Enhanced breathability
Less night sweats
Contours to the body shape
May help with motion isolation
Relieves pressure points
Cons of a hybrid mattress
The disadvantages of a hybrid mattress include: 
Lower quality materials can cause sagging and off-gassing
Expensive 
Mattress firmness
The firmness of a mattress refers to how you feel when you sleep on it. Do you sink in or feel like resting on top of a mattress? Does the mattress contour your body's shape? Do you feel supported when sleeping? These are just a few questions that can help you understand if a mattress is soft, medium firm, or firm. Comfort is subjective, so understanding mattress firmness and their differences will enable you to narrow down and find your perfect match. 
Soft (3-4)
Softer mattresses fall under the 3-4 firmness scale. Their firmness is determined by the materials used in their construction. A softer mattress typically utilises soft, cushioning layers of materials like thick memory foam for supreme comfort. When you sleep on a soft mattress, you're most likely to feel 'in it' rather than 'on it'. Soft beds are ideal for side sleepers as they allow them to sink in and reduce pressure on the shoulders and hips. But this sinkage can cause trouble switching positions due to poor support. Softer mattresses are not as suitable for heavier weighted sleepers, and it can be difficult to get out of for the elderly.
A soft mattress is ideal for:
Side sleepers
Lightweight sleepers
Medium feel (5-6)
A medium-feel mattress is a blend of soft and firm mattresses. It falls under the 5-6 firmness scale. This mattress is an equal balance of plushness and firmness that perfectly complements various sleep styles and body types. The medium feel mattresses compress better than a firm mattress but offer more support than a soft mattress. They also provide good pressure relief and enough firmness to keep the spine in a neutral position, ensuring you pass into a deep slumber without experiencing any discomfort. The versatility of a medium mattress makes it a good choice for a wide range of sleepers. At Giselle Bedding, we've got a wide collection of medium feel mattresses that are worth checking out.  
A medium mattress is ideal for: 
Lighter sleepers
Side sleepers
Combination sleepers
Back sleepers
Firm feel (7-8)
Are you looking for a firm and supportive mattress? A firm mattress may be a good option. Unlike soft beds, a firm mattress prevents painful sinkage and provides an even surface for sleeping. This helps reduce the strain on muscles, veins, and arteries, thereby improving blood circulation. A firm mattress also offers adequate support to your lower back and helps improve your posture by keeping your body aligned. This type of mattress is perfect for those troubled with back problems. It prevents lower back pain, promoting a peaceful night's sleep. When you sleep on a firm mattress, you're most likely to feel 'on it' rather than 'in it'. Side sleepers, lighter sleepers, and some combination sleepers may find a firm mattress a little uncomfortable. 
A firm mattress is ideal for:
Stomach sleeper
Back sleeper
Heavier sleeper
Extra firm feel (9-10)
While some love soft, plush beds, others prefer the super supportive feel of an extra firm mattress. An extra firm mattress offers a variety of benefits, but it's not for everyone. This mattress provides a level surface and additional support while you sleep, which helps your body maintain a good posture and prevents your back from curving. However, an extra firm mattress may not be the best option for those suffering from lower back pain and side sleepers. An extra firm mattress also offers increased stability, which means you won't roll towards the centre or bounce if you move about at night.
An extra firm mattress is ideal for:
Heavier sleepers
Back sleepers
Stomach sleepers
Best mattress for sleep position
Each night people change sleeping positions as many as 10 to 40 times, but every time they return to their favourite sleeping position unconsciously. Your mattress will majorly impact the quality of sleep you get, so finding a mattress that complements your sleeping position is of utmost importance. Keep reading to find a perfect fit when shopping for a new mattress depending on the way you sleep.  
Stomach sleepers
Sleeping on your stomach can put a lot of pressure on your pelvis. If your mattress doesn't provide adequate support, your body may end up in an uncomfortable position and provoke back pain. So it's best to avoid soft and plush mattresses. Choose a firm mattress as it can provide good spinal support and prevent the hips from sinking into the sleeping surface. You can also try a memory foam mattress for front sleeping. It takes some pressure off your chest and contours your shape.     
Side sleepers 
Side sleeping is the most popular sleeping position. It puts a lot of pressure on your neck, shoulder and hip, which can cause discomfort while sleeping. So it's best to choose a softer mattress or a medium-feel mattress. These mattresses conform to your body position, keep your spine aligned, and relieve tension around the neck, shoulder, and hip areas. Memory foam or pillow top mattresses are also ideal for side sleepers. They are a perfect blend of cushioned comfort and support. 
Back sleepers
Are you a back sleeper? A mattress that's too soft may not offer enough support to keep your shoulder and hip aligned, while a too firm mattress will put a lot of pressure on your shoulder and hip. A medium-firm mattress is your best choice. It evenly distributes your body weight, provides good spinal support, and reduces pressure point discomfort. A supportive mattress should be your priority. 
Body type
Your body type can also help determine the level of support and mattress firmness you need to sleep comfortably. It's important to consider how much you weigh when shopping for a new mattress because the amount of pressure applied to the surface of the mattress while sleeping differs depending on the weight. If you've been struggling to get comfortable in bed, understanding which mattress your body needs could help you get your dreamy sleep. 
Lightweight sleepers
Sleepers with smaller frames, or those weighing less than 60kg, are most likely to find a medium-feel mattress more comfortable than a heavier sleeper. A medium-feel mattress will allow lighter sleepers to sink in a bit. This will provide good cushioned support and pressure relief and ensure they sleep comfortably without experiencing any discomfort or pain. Choose a memory foam mattress with a firmness corresponding to the body weight. It will effectively cradle the body and distribute the weight evenly across the mattress. A latex mattress can also be a good choice for sleepers in every weight group.      
Heavier sleepers
For people weighing between 60kg and 105kg, a medium-firm mattress could be the best choice. They place a moderate amount of pressure on the surface of a mattress. A medium-firm bed offers the right balance of firmness and plushness, which is perfect for sleepers in this weight group. However, for sleepers who weigh above 105kg, a firm mattress could be an ideal match. Heavier bodies place more pressure on a sleeping surface that can cause greater sinkage. Such sleepers will need a mattress that provides adequate support to their bodies and prevents them from sinking into the mattress top. 
Sleeping problems
Are you having trouble sleeping? With the right mattress, you can combat your sleep problems and get a good night's sleep. Continue reading to find a solution to some of your sleeping problems.
Mattresses for hot and cold sleepers
Human body temperature naturally increases and decreases over the course of a day. Each day your body adjusts your temperature to follow your circadian rhythm. It starts by warming you up in the morning and cooling your body as you prepare for sleep. Sometimes, exercise, diet, and other factors such as hormonal changes may affect your body temperature, which may result in disrupted sleep. 
For sleepers who run hotter in bed, sweaty nights may prevent you from getting better sleep. In this case, a mattress designed especially for breathability and temperature control may help. Giselle Bedding's memory foam mattress infused with innovative cool gel technology may keep you cool and comfortable at night. 
Similarly, shivering through the night can also be troublesome and result in disturbed sleep. When you're too cold, your body tries to raise your temperature through shivering or trapping heat. A mattress that retains heat and creates a warm sleeping surface can make you feel comfortable while sleeping. Giselle Bedding's traditional memory foam mattress may keep you from shivering or reaching for blankets at night, making it effective for cold sleepers.
Mattresses for body pains
According to medical professionals, millions of people wake up with an aching body. A poor quality mattress and unsupported sleeping position could cause body aches. To find some relief from pains and aches, people often go in search of the perfect mattress. But do mattresses really help in reducing body or back pains? A research study published in the National Library of Medicine found that participants using their average 9.5 years old and moderately priced beddings were troubled with body pain. After replacing their old mattresses with new, medium-firm beds, the participants expressed that they experienced better sleep quality and reduced back discomfort. The researchers found continuous improvement for each of the 4-week data gathering periods. 
Choosing a good mattress that supports your body weight, prevents deep sinkage, and keeps your head, shoulder, and hip aligned could help reduce body aches and pains. Memory foam and latex mattresses offer adequate support to your body while sleeping and alleviate pressure on the joints. They precisely contour your unique body shape and keep you comfortable through the night. You could also use neck supportive pillows for pain relief.     
Mattresses for motion isolation
Have a sleep partner? Motion transfer is a common problem for people sharing beds. And it can be really frustrating. If you're a light sleeper, you know the struggle of waking up countless times at night due to the your partner's subtle body movements. But fortunately, it's preventable simply by finding a mattress that will absorb motion. Giselle Bedding's Luna Euro top cool gel pocket spring mattress is crafted with excellence to give you a soothing sleep every night. It features an innovative 7-zone EvenZon pocket spring system, which results in zero partner disturbance.   
Find quality mattresses at Giselle
A mattress is an investment in better sleep. Some people swear by expensive mattresses, but does a higher price really mean higher-quality products? That's debatable. What makes a mattress worth its price are the quality of materials, innovative technology, and its comfort. So the next time you're purchasing a new mattress, don't just rely on a salesperson. We recommend that you do your research first. Because it's you who knows what's best for you.
Giselle Bedding mattresses are designed to promote a good night's sleep by keeping you comfortable and providing adequate support through the night. No matter what kind of sleeper you are, you'll find your perfect match by taking our quick mattress compatibility quiz.  
Your dream sleep is not far away. Check out the Giselle Bedding mattress collection today.