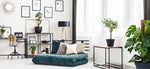 Making space to sleep is not always easy, especially if you live in a small space or simply need a temporary bed quickly. It's a delicate balance between cost and comfort – the cheaper and more flexible the mattress, the less comfortable. The more comfortable the mattress, the less versatile and affordable. Until folding mattresses, that is.
What is a folding mattress?
Folding mattresses are built for portability. Usually made from high-quality foam, these mattresses come in two types: folding and rolling. Folding mattresses have distinct sections that fold together neatly to be stored in a cupboard after use, while rolling mattresses come in a single piece and are rolled after use, such as tatamis and futons.
What are the benefits?
Using a foldable mattress has a multitude of benefits:
The perfect space saver: Unlike traditional mattresses, these won't take up precious floor space. They can be set aside or stored until you need them, whether that's tonight or in a month's time. Perfect for minimalists, unexpected guests, or just a cheap bed alternative.
Save your back: Never sleep on the couch again! Get a proper night's sleep that won't hurt your back and leave you with a neck cramp in the morning.
Portability: When you need an overnight bed solution, bring it from home! Foldable mattresses are perfect for throwing in the back of a truck or trailer, laying out for sleepovers, or simply moving from one home to another.
Multiple uses: There are many ways you can configure foldable mattresses, including doubling them as sofas, ottomans, stools or playmats.
Getting the most out of your foldable mattress
Laying a mattress on the floor is easy and hassle-free, but there are some things you should consider before totally rolling out the red futon.
Make sure the area is clean! Vacuum and mop the floor before lying down so that your mattress is less likely to collect dust, dirt, and insects. Similarly, you might want to vacuum your mattress before you put it away. If it doesn't already come with one, invest in a washable, removable cover.
If you're laying on the floor more permanently, air out your mattress regularly by hanging it outside or over a railing. This will prevent build-up of mould, mildew and dust mites. If you can't do that, you're better off pairing with a foldable bed frame.
Giselle has you covered
At Giselle we stock several folding mattresses and sofa beds so you can get the benefits of a good night's sleep without the hassle of a full-sized bed. With comfortable, breathable fabric, removable covers, high-density foam and a variety f uses, our folding mattresses are perfect for adults and kids alike. Find us online at any of our partnered stores and buy yours today! You never know when you might need it…